Recipes
Easiest Way to Make Delicious Molten Chocolate Cake Style Steamed Bread in the Microwave
Molten Chocolate Cake Style Steamed Bread in the Microwave. Great recipe for Molten Chocolate Cake Style Steamed Bread in the Microwave. I came up with a recipe that I could make easily with my kids and could give away as a Father's Day present. Fastest chocolate cake recipe ever with a molten lava fudge filling!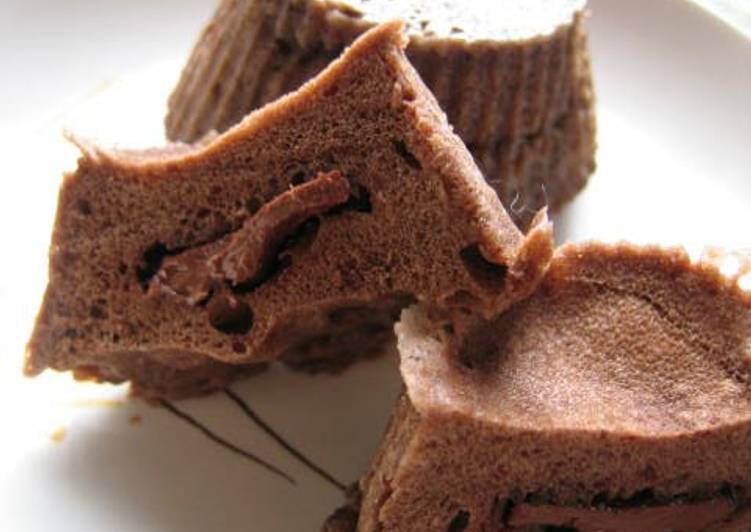 It should not be confused with chocolate fondant, a recipe that contains little flour, but much. This one is my recent discovery and i loved it to the core. I have made a video version of it as well. You can have Molten Chocolate Cake Style Steamed Bread in the Microwave using 8 ingredients and 9 steps. Here is how you cook it.
Ingredients of Molten Chocolate Cake Style Steamed Bread in the Microwave
It's 1 of Egg.
You need 50 ml of Milk.
You need 1 tbsp of Vegetable oil.
It's 30 grams of Sugar.
It's 40 grams of Cake flour.
Prepare 10 grams of Unsweetened cocoa.
It's 1/2 tsp of Baking powder.
It's 1/3 of bar Milk chocolate.
This is nigella lawson's recipe and it is a no fail recipe. Brandielle submitted this to Tasty Kitchen a few days ago, and it's a similar concept to most molten cake recipes I've made wherein you mix eggs with egg yolks (and cocoa and powdered sugar and other things) then bake it just long enough to set the outer layer of cake to ensure that ooey, gooey center. Set the ramekins on a baking sheet. Melt the butter in a medium bowl in the microwave.
Molten Chocolate Cake Style Steamed Bread in the Microwave step by step
Here are the main ingredients for this recipe..
Break up the chocolate with your hands..
Crack an egg into the bowl and beat it with a whisk. Once beaten, add the milk and mix, and the sugar and mix. Add the oil and mix again, then when everything is combined, stop..
Combine the cake flour, cocoa and baking powder and sift it into the mixture. Gently fold it in with a plastic spatula until the mixture is no longer powdery..
Line some clingfilm alongside the microwaveable molds (you don't need to do this if your mold is made of silicon) and fill each mold up to 1/3 of the way up with mixture. Lightly wrap with cling film and heat in the microwave for 20 seconds..
Place some chocolate on top of the warmed mixture. The fill the rest of the mold 80% full with the mixture to hide the chocolate and wrap gently once more. Cook the steamed bread (2 at a time) for 1 minute. They should rise a little so that's why there is a little room left at the top..
Remove from the mold and try eating whilst still hot..
If you're giving them as presents try wrapping them like this. Even if you use any old plastic bag, by letting kids decorate with stickers it will become something special..
Giving them to Dad!.
Immediately add the chopped chocolate and stir until the chocolate is completely smooth and melted. Add in the melted butter, milk, egg and vanilla. Whisk well to combine, making sure to mix in the flour mixture in the bottom. This is some of the best chocolate cake of my life. It's so rich, dense, and fudgy it reminds me of my favorite brownies.