Fintech
Recipe: Appetizing Cheese Biscotti
Cheese Biscotti. Lightly grease (or line with parchment) two baking sheets. In a large bowl, beat together the butter, shortening, sugar, tomato paste, cheese, herbs, baking powder, and salt until smooth. Cheddar Cheese Biscotti (serve instead of crackers!) + @edwardsxroads wood cutting board #giveaway Click To Tweet.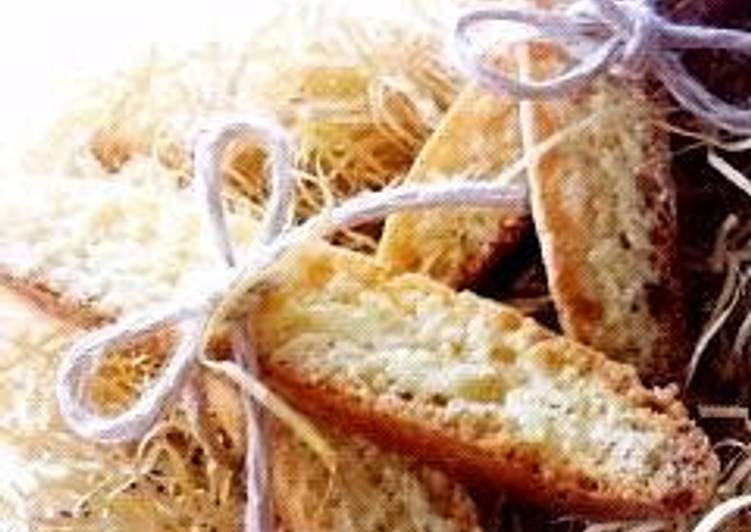 Line a baking sheet with parchment paper. Whisk together the herbes de Provence, flour, baking powder, and salt. This was a great recipe to use the Herbes de Provence just sitting in my spice cabinet. You can cook Cheese Biscotti using 8 ingredients and 8 steps. Here is how you cook that.
Ingredients of Cheese Biscotti
It's 90 grams of Cake flour.
You need 30 grams of Almond flour.
Prepare 30 grams of Grated cheese.
You need 2 1/2 grams of Baking powder.
You need 15 grams of Butter.
You need 90 grams of Granulated sugar.
Prepare 1 of Egg.
You need 2 tsp of Milk.
Sun-dried Tomato, Herb, and Cheese Biscotti. Place slices, cut sides down, on baking sheet. Remove from baking sheet; cool completely on wire rack. An hour and six ingredients are all you need for this recipe from Mark Bittman, who urges cooks to step outside the biscotti safety zone of chocolate and hazelnut by substituting cheese, herbs and spices in this twice-baked Italian treat Shape the dough into a log and bake until firm before cooling, cutting into slices and baking until crisp A cup of coffee is still the best pairing.
Cheese Biscotti step by step
Sift the cake flour, almond flour, and baking powder together. Preheat the oven to 170℃ / 340℉..
Add butter brought to room temperature, granulated sugar, egg, and milk in that order to a bowl. Mix after each addition..
Add the sifted dry mixture and grated cheese, then fold in. The dough is very soft..
Dust parchment paper with bread flour (not listed) and place the dough on top. I prefer thin biscotti, so I divide the dough into 2 portions..
Dust the top of the dough and your hands with bread flour. Form 7 ~ 8 mm thick rectangles (They will rise a little bit after baking)..
Bake in the oven for 25 minutes at 170℃ / 340℉. Take them out from the oven, and slice into strips. Lay on the baking sheet with the cut ends facing up..
Pop them back in the oven and bake for another 6 – 7 minutes at 150℃ / 300℉ to make them crispier and crunchier..
When they cool down, you can enjoy the crispy and crunchy texture. Wrap them nicely as presents..
Add sugar and baking powder; beat until combined, scraping side of bowl occasionally. Beat cream cheese, margarine, sugar, vanilla and anise extract in large mixing bowl at medium speed with electric mixer until well blended. Gradually add combined dry ingredients, mix well; stir in almonds. Arrange the biscotti, cut side down, on the baking sheet. Toasted almond and lemon zest biscotti for any occasion.