Fintech
Recipe: Delicious Whole-wheat coconut and almond biscotti
Whole-wheat coconut and almond biscotti. Beat in the melted butter (or coconut oil). Combine wet ingredients with dry ingredients and gently fold with a spatula until combined. Over the course of our Christmas visit, I ended up sampling one of almost every cookie flavor.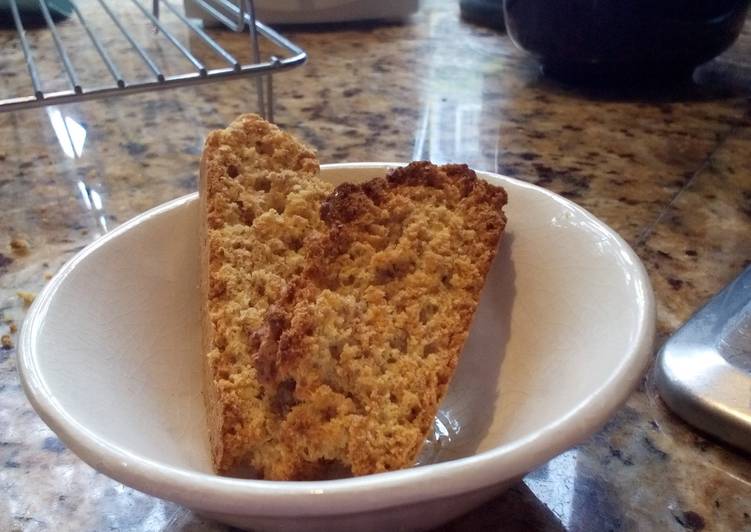 I do not recommend substituting Dutched or "special dark" cocoa powder; both of these have a different acidity level, which can affect the taste. Stumbled upon this recipe for biscotti made with whole wheat, almond meal and less sugar than usual. Without added fat, these are crunchy but not very hard. You can have Whole-wheat coconut and almond biscotti using 8 ingredients and 9 steps. Here is how you achieve that.
Ingredients of Whole-wheat coconut and almond biscotti
It's 2 1/4 cup of whole wheat flour.
It's 1 cup of all-purpose flour.
It's 1/2 cup of vegetable oil.
You need 3/4 cup of sugar.
Prepare 1 tbsp of baking powder.
It's 1 tbsp of almond extract.
Prepare 3 of eggs.
You need 1/4 cup of coconut shavings.
The log slices really well, making for thin biscotti. Slightly coarse textured, just about sweet (think Marie biscuits), these will be good cookies for the health conscious. Place the cookies on baking sheets and return one sheet at a time to the middle rack of the oven. Skip the photo tutorial – Jump straight to the recipe.
Whole-wheat coconut and almond biscotti instructions
Preheat oven to 190℃ and line a baking sheet with parchment paper.
Combine eggs, oil, sugar and almond extract in a medium bowl.
In another bowl, combine whole-wheat flour, all purpose flour, baking powder and coconut shavings.
Combine these two mixtures, forming a dough.
Separate dough in two. Place these two sets of dough onto the parchment paper in two long 'log' shapes..
Bake the mixture for 25-30 minutes or until golden brown.
Leave 'logs' to cool for 10-15 minutes.
Using a serrated knife, cut into 1cm thick slices.
Lay slices flat on the baking sheet and bake for another 10-15 minutes, turning them every 5 minutes.
Assemble the ingredients: whole wheat pastry flour, cocoa powder (use a good quality cocoa), olive oil, baking soda, salt, eggs, sugar, vanilla & almond extract, almonds, dark chocolate chips, coarse or demerara sugar. Made with whole wheat and oat flours, this whole grain biscotti is a nourishing backpack or breakfast snack. Amazing, simple vegan biscotti infused with orange zest and roasted almonds. Dip in vegan dark chocolate for a decadent touch. In a medium bowl, whisk the flour, baking powder, and salt.