Fintech
Recipe: Perfect Tea Scented Breakfast Biscotti
Tea Scented Breakfast Biscotti. Add sugar, baking powder, and salt. Beat until combined, scraping sides of bowl occasionally. Learn how to cook great Tea scented breakfast biscotti.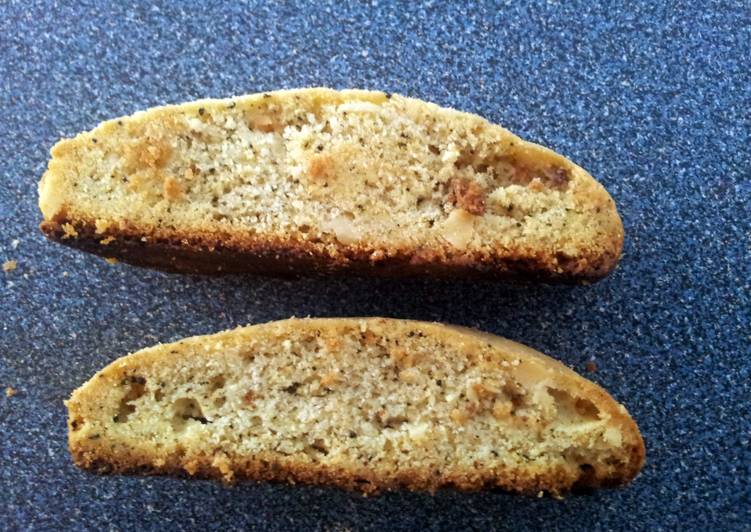 See great recipes for Scented christmas tree, Tea Scented Breakfast Biscotti too! BISCOTTI DA TE' (ITALIANO) Who doesn't love tea and crunchy bikkies? In several posts I spoke about vary kind of pastry and their different structures based on use. You can cook Tea Scented Breakfast Biscotti using 9 ingredients and 5 steps. Here is how you cook that.
Ingredients of Tea Scented Breakfast Biscotti
It's 4 of orange spice tea bags.
Prepare 1/3 cup of butter, softened.
Prepare 2/3 cup of sugar.
Prepare 2 tsp of baking powder.
It's 1/2 tsp of salt.
You need 2 of eggs.
Prepare 1 tsp of vanilla.
You need 2 cup of all purpose flour.
Prepare 1/3 cup of sliced almonds.
When I want sweet and mouth-watering pastries, I choose the FROLLA MONTATA. It si so crunchy because of the. Breakfast Sides: Applewood Smoked Bacon, House-Made Turkey Sausage, Smoked Cheddar Grits, Fresh Fruit, Parmesan Hash-browned Potatoes. Items that are notated with *GF can be prepared Gluten-Free.
Tea Scented Breakfast Biscotti step by step
Preheat oven to 375°F. Remove tea from bags and grind in blender until fine. Set aside. Lightly grease an extra large cookie sheet and set aside..
In a large mixing bowl beat butter with electric mixture on medium high for 30 sec. Add sugar, baking powder, and salt. Beat until combined, scraping sides of bowl occasionally. Beat in eggs and vanilla until combined. Beat in ground tea and as much flour as you can with mixer. Stir in any remaining flour and almonds. Chill if necessary until dough is easy to handle..
Turn dough out onto lightly floured surface. Divide into 3 equal parts. Shape each portion into 8 inch rolls. Place rolls abput 3 inches apart on cookie sheet and flatten rolls until about 2 inches wide..
Bake about 20 min or just until bottoms and edges are golden. Cool completely on cookie sheet on wire rack about 30 min. Reduce heat to 325°..
Transfer rolls to a cutting board. Using a serrated knife, cut each roll diagonally into 1/2 inch slices. Place slices cut side down on ungreased cookie sheet. Bake about 8 min and turn and bake another 8 min until slices are crisp and golden brown. Transfer to wire rack and cool..
These twice-cooked, classic Italian biscuits are a fantastic accompaniment to after-dinner coffee. Delicous with a cup of tea. Keep in an airtight container for up to a week. See more of our delicious tea recipes. See more ideas about Biscotti, Biscotti recipe, Cookie recipes.